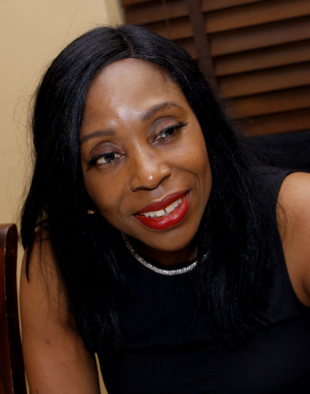 Ady Dike is a newly appointed Non-Executive Director to the GIAA Board. To mark International Women's Day and British Science Week Ady is sharing her professional journey to Board leadership and the barriers she has overcome.
The World Economic Forum announced in its December 2019 'Mind the 100 Gap' report that none of us will see gender parity in our lifetimes, and it is unlikely that many of our children will either. This report paints a dire picture of gender equality and emphasises the substantial under-representation of women in senior roles. The Daily Mail did however report recently that women now hold a third of board positions at the UK's largest 350 companies, representing an improvement of 50% over 5 years. Notwithstanding, board leadership has always been my dream. I have achieved a measure of success in this regard, although my journey to leadership could hardly be called straightforward or easy.
I am an Enterprise Agile Architect who coaches leaders and teams to transform their organisations to become more competitive. My earlier career includes being Director of Quality at Addaction, and Head of Governance in the NHS at Newham and Barking CCGs (clinical commissioning groups). I am also a trustee on the MS Society and Parkinson's Africa Boards.
Now that my two sons are well grown, I am fulfilling a long-held dream to pursue a doctorate degree at the University of Central Lancashire. However, like many black and minority ethnic women, earlier on in my career I couldn't see many like myself in the roles I was aspiring to take on, at times this made me feel like I didn't fit in. I have since learnt that this feeling has a name – impostor syndrome. If I had known then what I know now, that some truly accomplished female senior leaders such as Jacinda Ardern, prime minister of New Zealand and Michele Obama, former US first lady, are plagued by the same feelings, I might have been much kinder to myself.
In any case, I was fortunate to attend several executive development opportunities, which gave me confidence to apply for senior leadership roles. Unfortunately, they did not prepare me for the sense of isolation I experienced as the only black female executive in my first board appointment. This is because most leadership programmes focus on leadership techniques rather than mindset and approaches to overcome the significant barriers women face to advancement.
Despite the significant progress women have made in politics and business, women today experience significant cultural and institutional barriers that can work against them professionally and personally. In the workplace, however, I believe barriers to mobility for women come in two forms, the ones imposed on us through gender biases and the ones we put on ourselves. I have found the latter to be the most detrimental to becoming the sort of professionals we aspire to be.
During my career, I have had the good fortune of mentoring women, who would make excellent leaders but are not sure if they should apply for that promotion, or who work so hard doing great things but feel either unheard or invisible. Whether it is because of gender makeup or social conditioning, women can sometimes be hesitant about asking for the recognition they deserve or claiming credit for their achievements. As one who has walked in those shoes this concerns me. As a result, it has almost become a life mission to help other women overcome these limiting behaviours.
The greatest gift women in Tech or in senior leadership can give themselves is to hold space and be comfortable in their own skin. Over time, I have seen the benefit of cultivating supportive networks, having mentors and coaches to act as a soundboard to help me make sense of my environment and cultivate my own authentic leadership style. I would therefore like to see more women empowering other women who desire upward mobility in technology or senior leadership, by becoming mentors and coaches, creating a 'role model effect' that politically empowers the next generation of women to see themselves in these roles.
I couldn't have joined the GIAA at a better time, under the hugely transformational leadership of Elizabeth Honer, who herself is a champion of diversity and inclusion in the workplace. I am honoured to be part of a strong and forward-looking Board and I am very much looking forward to supporting the GIAA to further transform itself to meet the future challenges and opportunities that lie ahead. To the next generation of aspiring women leaders, I want to encourage you to invest in developing your own authentic leadership style, because as Brené Brown says in her book, 'Daring Greatly', "Courage starts with showing up and letting ourselves be seen". I'd like to leave you with the following words from Oscar Wilde, "Be yourself, everyone else is taken."